UPCOMING EVENTS…
August 12, 2017 – BYOB Mixer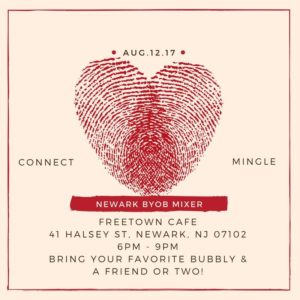 ATTENTION StartingBloc Fellows, Friends and all Educators and Influencers!
Join us for an evening of great conversation and connections at our BYOB Mixer, produced by Sophia Domeville, StartingBloc Fellow, Educator and Haitian Abstract Expressionist, and myself Oriola (Jessica), Visual Artist, Educator, Writer and Social Justice Advocate.
Bring a friend and your fave bottle of bubbly.
Event details and tickets available on Eventbrite here.
August 26, 2017 – Poke ~n~ Woke Feast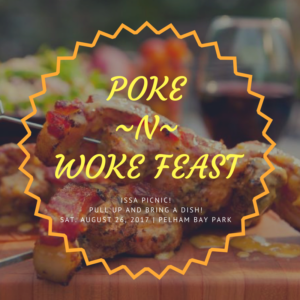 It allllll started from a post from a good sista-friend of mine, Efunyale, in reference to folks being bullied for eating pork. And the rest, as they say, is history. From it, this event was born. We don't need to isolate ourselves from one another based on ideologies.
If you're in town or want to be down, PULL UP to Pelham Bay Park in the Bronx on August 26, 2017 at 2PM. Bring what you eat. Bring what you drink. Be one big Black family, celebrating ourselves and just BEing.
Questions? Email me at oriola@oriolaspeaks.com or by using the contact form on this site.
See you there 😉
THROWBACK JOINTS…
July 4, 2017 – 3 P's in a Pod Podcast
I was privileged to be a guest on the 3 P's in a Pod show as a stand-in for a vacationing member of this wonderful group of educators who I happened to grow up with.
In our own voices as Black women, we talk about the protection that sistas need in the media, Jay-Z's latest project, Newark city politics, the power of the vote and choice, vulnerability in Black women's art, and other current topics. Connect with us!
Tune in to Episode 9 featuring #OriolaSpeaks on SOUNDCLOUD.
June 17, 2017 – Align with Divine: Social Hour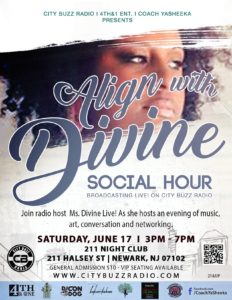 Omo Oshun Ewa is co-sponsoring this event, that promises to be the start to something divine!
Produced by City Buzz Radio I 4th&1 Entertainment presents
"Align w/ Divine Social Hour"
Join radio personality and film maker, Ms. Divine LIVE! for a unique blend of art, music, entertainment and conversation. Enjoy a great atmosphere, good food and drinks.
Music By: DJ ConDog
Broadcasting LIVE! on City Buzz Radio
For tickets & VIP seating info: yasheeka@citybuzzradio.com
Make memories in front of our SELFIE WALL, and grab a shot with yours truly and the Omo Oshun Ewa logo. I will have discounts and giveaways on hand!
YOU DON'T WANT TO MISS THIS!
CLICK HERE to attend, become a sponsor and find out more info.
May 20, 2017 – Soulful of Thoughts: Elements of Her
Produced by On a Journee Ventures:
"In honor of the woman, mothers and females everywhere, we present to you the manifestation of Session 2017 of SoulFul of Thoughts. A gathering that highlights the beauties, ills, ease and hardship of womanhood. This event encompasses the following:
Ballads for Her: Live performances dedicated to the significance of women
Sex Education
Yoni Trivia
Live Body Painting
Giveaways from Sponsors"
Omo Oshun Ewa has joined this event as a sponsor, giving away discounted wearable art for queens and kings. There will be plenty of other wonderful artists and companies with plenty of goodies for attendees!
April 1, 2017 – Art Block! Open Studios/Talks at Gallery Aferro and IAC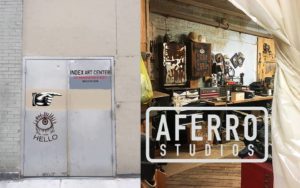 I will be debuting as the newest member of the Essential Elements Collective, resident artists of Gallery Aferro as we open up our gallery and our private studio spaces to the public.
In detail: Gallery Aferro's Artist Talks and Open Studios is a great opportunity to experience a cross section of art making in Newark. Kevin Durkin will be speaking about his solo exhibition on display in the main gallery at Gallery Aferro. Alex Scott Cumming, Jasmine Mans, and Ngu Asongwed will also be speaking about their installations for Activate: Market Street 11. Artists listed below will have their studios open to the public and the artists with an asterisk next to their name will be speaking during the artist talks.
Patricia Cazorla & Nancy Saleme
Dominique Duroseau
Anne Dushanko-Dobek*
Essential Elements Collective*
-Sophia Domeville
-Jessica Dunston
-Sheikia "Purple" Norris
-Kelly Thomas
Gilbert Hsiao
Hal Laessig & Yoland Skeete
Tasha Lewis
Jo-El Lopez
Jacob Mandel
Anne Q. McKeown
Will Ortega & Sara Wolfe
Michelle, Natalie, and Nicole Suriel
Amanda Thackray
Ken Weathersby
Jay Wilson
Juno Zago
Also on view: Only Home by Kevin Durkin, Respond In Kind by Jacob Lawrence Mandel, and Lawless Innovation by a Timeless Generation by Alex Scott Cumming, Jasmine Mans, and Ngu Asongwed for Activate: Market Street 11
Click here to view the Gallery Aferro website.
July 1, 2016 – Appearance on The One Mic Show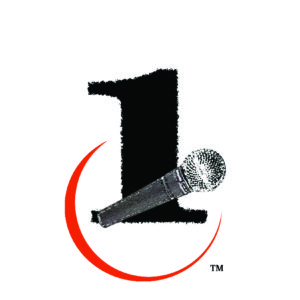 BLACK IN AMERICA: AFRICAN vs AFRICAN AMERICANS | DEAR AWARDS |
A Kenyan Journalist from Dallas attracted the fury of Diasporans after suggesting that she felt unsafe around African American Males, and further said that Black Americans were as alien to her as White People.
Supuu Rehema gave us a perspective from a Kenyan raised in the US.
We also talked about the nominee list of the DEAR Awards scheduled for Sept 3rd in Irving Texas. We tried to distinguish the real nominees from the boot-leg certificates that were circulating on Social Media.
DJ Omosh Faya was on duty like always on the decks.
HOSTS: Bandio, OneMic, Ali, Viola, Micah, Omosh
SPECIAL GUEST: Junior, Ali McBride, Ms. Jessica Renee
LOCATION: Kilimanjaro Studios
Click here to listen
June 14, 2014 – Co-producer of Djembe: An Interactive Conversation on Mental Wellness for Men of Color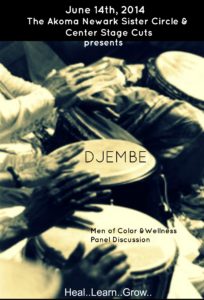 Inspired by police shootings of Black men, violence within the Black community and overwhelming reports of suicides among Black men, the women of the Akoma Newark Sister Circle set out to create an interactive, healing discussion where our brothas could have the space to discuss their stressors, identity, how they cope and possible solutions.
We opened with a traditional spiritual ritualistic opening, giving honor to our ancestors, followed by traditional djembe drum to call the purpose to order and set the tone to restoring our community. Spoken word and music were provided by local Black men artists. Guests were treated to a film screening of clips of "Faces of Darkness," and two separate panel discussions, in which local Black men from different industries, all entrepreneurs, spoke on their experiences with stress, mental wellness and the path toward personal and community healing.
See archived details and recaps here, and the Akoma Newark Sister Circle archived twitter feed here.
February 26, 2014 – Co-producer of "Middle of Nowhere" Film Screening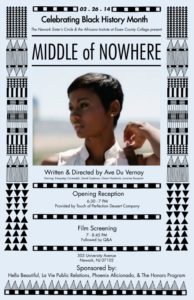 During this film screening, guests watched "Middle of Nowhere" by Ava Duvernay surrounded by sweet treats from local entrepreneurs, followed by a discussion on Black filmmakers and creating in the film industry while Black. The discussion also included elements relevant to our lives and context including Black love, the Black family and mass incarceration.
See archived details and recaps here.
May 7, 2013 – Co-producer of Community Talk: Health & Illness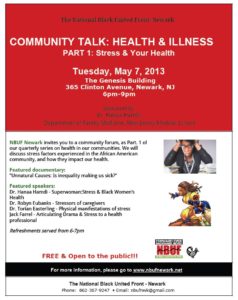 We began facilitated panel presentations and discussions to unpack serious issues in health and wellness, lived with by individuals in the African American community. In these talks we explored how the stressors under which we live in our communities impacts our physical health.
Topics were discussed including the stressors of caregivers, the physical manifestations of stress, and more.
HOSTS: Jessica Dunston, Dr. Hanaa Hamdi
SPONSORED BY: National Black United Front – Newark Chapter, Department of Family Medicine – New Jersey Medical School
SPECIAL GUESTS: Dr. Hanaa Hamdi, Tracee Thomas of Empress Movements, Dr. Torian Easterling, Dr. Robyn Eubanks
LOCATION: Kilimanjaro Studios