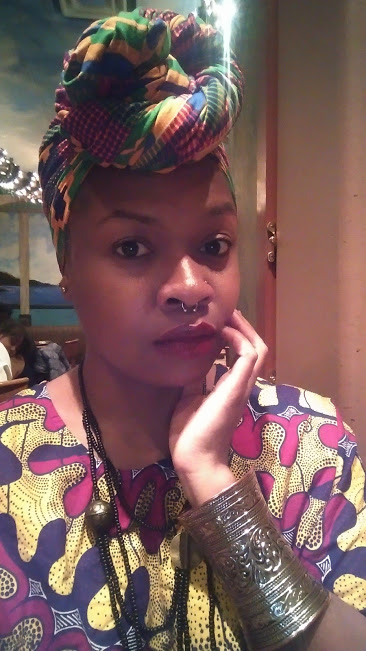 Jessica Renee Dunston
Born and raised in Newark, NJ. with families originating from North Carolina and South Carolina, respectively. BA in History from Boston College minoring in American Studies, concentration in Society, Subcultures & Race. Organized on the campus of Boston College on behalf of Black students' rights, against racial violence, for diversity and inclusion in administration and history curriculum, and advocacy on behalf of Black women, providing safe space for our voices and experiences. Advocated for awareness and survivors of sexual assault.
Writer, blogger, researcher, historian, public speaker, community organizer, cultural analyst. Educator, workshop & event producer. Advocate for the self-determination, autonomy, self-reliance, and essential nature of African-ness and African people. I make the case that African-ness and Blackness need no gaze and no comparison and no validation.
I design curriculum focused on re-education of and introduction to African history, including the diaspora. I design workshops with the same focus. I design rites of passage programs and group mentorship curriculum for Black girls, aimed at self-discovery, self love and self-manifestation, introducing young women to sheroes of the diaspora and dynamic Black women around them, while teaching them how to create safe spaces for themselves and their fellow Black women. Organizer of donation drives on behalf of those in need in the community.
Former mentor & program coordinator at Teens Against Violence Everywhere through Recreation & Cultural Affairs of the City of East Orange. Co-founder of Project LIFT in East Orange, aimed toward upliftment and self reliance of African people. Former organizer for the International People's Democratic Uhuru Movement. Former president and organizer of the Newark Chapter of the National Black United Front. With respect to both organizations.
Co-director and instructor of the Sankofa Circle African History classes in Newark, NJ.
Designer and Program Facilitator of "Octavia's Daughters" rites of passage & group mentorship program, for the Dreamers Project of the Kids Corp ELT Program at Louise A. Spencer Elementary School in Newark, NJ.
Designer and creator of wearable art with my own company, Omo Oshun Ewa, creating natural jewelry, aka wearable art with a spiritual, holistic focus, inspired by indigenous culture and traditional African spirituality.
Co-founder of a few sister circles including the Akoma Newark Sister Circle. Event co-producer of the same, focusing on mental health of Black women, and providing safe spaces for the cultivation of discussion focused on the mental health of Black men. Co-producer of workshops and panels focused on the voices of Black women and advocacy for autonomy of Black women's voices, bodies and sexualities including the Black Writer's Conference 2014 at Essex County College.
In the winter of 2016, amidst trauma after trauma in the Black community in the United States and global African diaspora, mostly inspired by public outcry in the wake of extra judicial murders of Black men and women that sparked national movements, Black folks in many ways felt enraged and hopeless. It was with this in mind that I created #UnbridledBlackJoy with the intention to show, spread and celebrate the best parts of us; to remind us of who we truly are. This platform promises to grow exponentially with time.
Member of the Order of the Eastern Star and Women's Auxiliary to the Ancient Arabic order of the Nobles of the Mystic Shrine, Prince Hall Affiliated. Co-founder of Pan-African Ancestral Egun Egbe in Newark, NJ. Level 1 Reiki Healer. I study and practice Yoruba Ifa and Akan Akom traditions, with deep connection to my ancestors, with the utmost respect to the Black church. Raised in St. James African Methodist Episcopal Church and am still a member. Fitness & herb enthusiast with a flourishing garden with herbs and veggies in my home. Artist, sister, friend, and genuine lover of African people.
Creative Outlets:
Collaborator & Co-founder of Black 2 Our Roots, 2017
Member of Essential Elements Creative Collective at Gallery Aferro, 2017
Co-contributor at Saffron Soul/Violet Voices, 2017
#UnbridledBlackJoy Tumblr page & hashtag, 2016
Sankofa Study Circle – African History Classes, 2014
Omo Oshun Ewa wearable art, 2010
Events:
Newark International Film Festival, September 2017
Black Writer's Conference panels on Black women's bodies at Essex County College, 2014
Djembe: An Interactive Conversation on Mental Health of Men of Color, 2014
Middle of Nowhere film screening, 2014
Co-hosted Amiri Baraka in newark with Afrikan Echoes, 2013
Kwanzaa Karamu, 2012
CARE Week fashion shows – Women's Resource Center of Boston College, 2010-2012
Groups
Newark Healing Circle, 2017
Juu Dada Society, Women's Circle, 2015
Akoma Newark Sister Circle, 2013
Speaking/Radio:
Demonstrations:
Oyatunji Village contingency at African American Heritage Parade in Harlem, 2015
Bring Back Our Girls, Newark, NJ, 2014
Community Mothers Demonstration, Newark, NJ, 2013
Feed the Hood Project, Newark, NJ, 2013